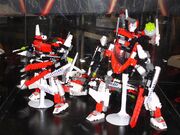 VAN-Force (by Kawamori Shoji) - Variable Absolute Nexus
Edit
Variable Absolute Nexus is a fully transformable combo model designed by Kawamori Shoji of Macross fame. While comissioned by LEGO for this (and other) promotional designs, they are not part of Exo-Force due to copyright ownership by SATELIGHT (copyright holders of Macross).
Variable Absolute Nexus is the first VAN-Force combo model, made from Stealth Hunter and Grand Titan.
This combo model's instructions and sticker set were awarded for purchasing a minimum of two "$15" LEGO Exo-Force sets at a number of conventions in Asia.
Instructions for Variable Absolute Nexus were also available in volume 95 of Figure King magazine. Using this method would lack the custom stickers.
Variable Absolute Nexus is fully transformable from a vehicle mode to a GERWALK (half-and-half) mode, and finally to a humanoid mecha with minimal to no removal of parts.
Highly detailed and complex, it is intended as a display model rather than a playable toy due to being a bit structurally weak from the stud connections. This doesn't seem to be a problem if the parts are secured with a weak water soluble glue for stability.